Terra Verde Resort has quickly become one of the most sought after locations for a vacation villa rental in the Orlando area.Situated just outside Kissimmee, Terra Verde is only 10 minutes from Disney and very close to all the other attractions central Florida and the Orlando area have to offer.
Terra Verde was purpose built as a vacation resort community with a mix of townhomes and individual villas surrounding a centrally located clubhouse. It is a gated community, so the facilities are exclusive to guests staying at Terra Verde. You can relax on the comfortable loungers surrounding the large deck area around the Terra Verde pool, or take a dip in the inviting water. If you need to unwind, why not try the spa (hot-tub), which has a wonderful water feature running from it down into the pool. Inside Terra Verde's clubhouse you can relax in the lounge area while the kids play on the arcade games or billiard and hockey tables. Need to check in with family or friends? E-mail them from the internet computers in the Cyber café, or use them to plan a day out at Disney or other theme park. Across the hall is the Gym and exercise room with all the popular equipment to keep fit with.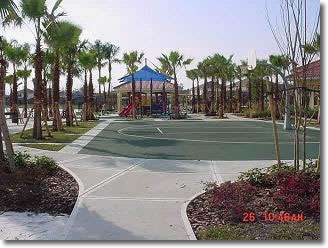 If you feel like a bit of exercise in the fresh air, Terra Verde has a half court basketball hoop and a beach volleyball court. Next to this is the 'tot-lot' and children's play area, with swings, climbing frame and rock for the more adventurous ones. If this isn't enough, Terra Verde has it's own lake - beautifully serene and tranquil you can walk around it and over the wooden bridge way, or why not try a spot of fishing? Terra Verde Lake is stocked with a variety of fish and is a magnet for local wildlife. There is a small beach area with hammocks tied between the palm trees that gently rustle in the breeze - with a glass of your favourite drink in hand from the Tikki Bar you will find it hard to find a better way to relax anywhere.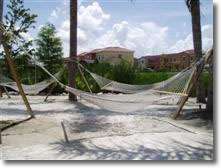 With all this on offer at Terra Verde it is going to be hard to find a reason to leave the resort - so there is a concierge service available to help you plan a day out and they can offer advice on the Orlando area attractions and arrange tickets for shows and parks etc. The Terra Verde staff is dedicated to assisting guests with their Florida vacation or conference needs.
If you have children with you, then one of the great advantages of Terra Verde Resort is the safety and security it offers. This allows your kids to mix with other kids by the resort pool, games room or play areas while you have piece of mind. We all remember meeting new friends on summer vacations as kids and this is a good opportunity for them to do the same.
Guests can choose from a three- or four-bedroom townhouse or a four- or six-bedroom home. Each unit features all comforts of home, including a fully equipped kitchen with dishwasher, microwave oven, refrigerator, stove, toaster and blender. Other amenities include cable television, telephone and washer and dryer. The townhouses have access to a community pool while the homes have a private pool and private two-car garage.
Guests can take advantage of the opportunities Terra Verde Resort provides for rest and relaxation as well as its convenient location close to exciting local attractions. Families and groups will enjoy the extra space in these townhouses and pool homes and couples will appreciate the privacy.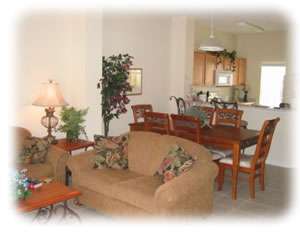 VeraGualano.Com Realtor not only has investment properties available in this upper-class resort, but we also offer property management services to those wishing to invest in our Florida Sun living!!!
Call Us at 407.397.4870